The Sustainable Singapore Movement is an ongoing effort by the island city-state to create an environmentally clean and beautiful home for future generations. Photographer Klaus Tan Yihong shot a photo project titled Space Sustainable that provides a beautiful look at the new green spaces found through the country.
Yihong, an 18-year-old student of Anglo Chinese School, was selected as the overall winner in the Junior Category of the prestigious City Developments Limited Singapore Young Photographers Award 2018.
Sustainability means that our rate of consumption is lesser than our rate of resource production – social and economic progress are the end rewards. This project, shot exclusively within Singapore, features 5 microcosms representing the spaces we spend our life in – housing spaces, relaxation spaces, work spaces, transportation spaces and city spaces. Each photograph tells a unique story of how the featured element contributes towards sustainable living in Singapore, and emphasizes the beauty of adopting a sustainable style in city development.
The photos cover the microcosms of city, housing, relaxation, transportation, and work. The captions below are by Yihong.
Standing against the backdrop of Singapore's Central Business district at sunrise is the Metropolis, a Grade A office building located in One North. It features large glass windows which serve to allow natural light into the premises, reducing the need for electricity to power lighting. It achieved the Green Mark Platinum certification by the Building & Construction Authority of Singapore.

The Apple store in Orchard runs exclusively on green energy, through innovative solar panels installed on its roof. Moreover, its groves feature lush green trees, adding to the environmental aesthetic of the store.

The bustling Tanjong Pagar Terminal is equipped with LNG-fuelled harbour crafts and electric cranes, in a step towards adoption of cleaner fuels.

Contrary to conventional housing clusters of solitary towers, the Interlace condominium by Buro Ole Scheeren architects creates an intricate network linking private and social spaces, providing residents freedom and creating a sense of community.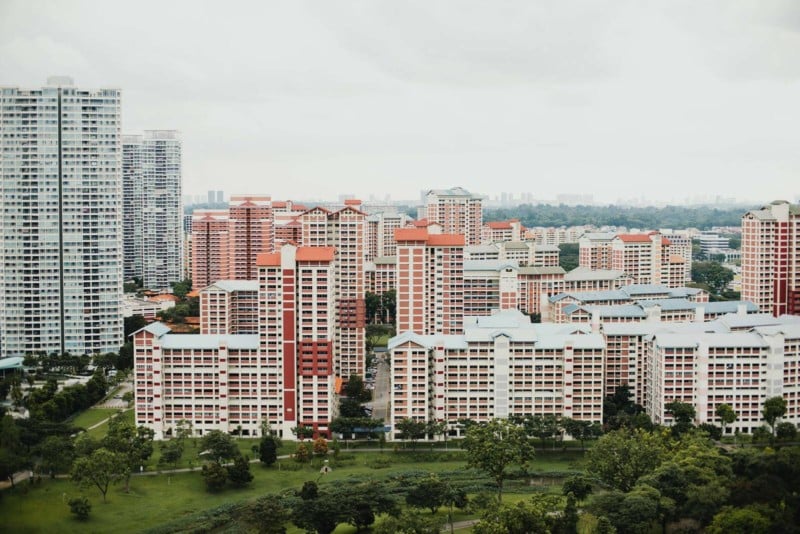 The HDB is an embodiment of all things sustainable. With housing support schemes, amenities for all ages and communal facilities that cater for everyone, approximately 80% of Singapore's residents reside in HDBs.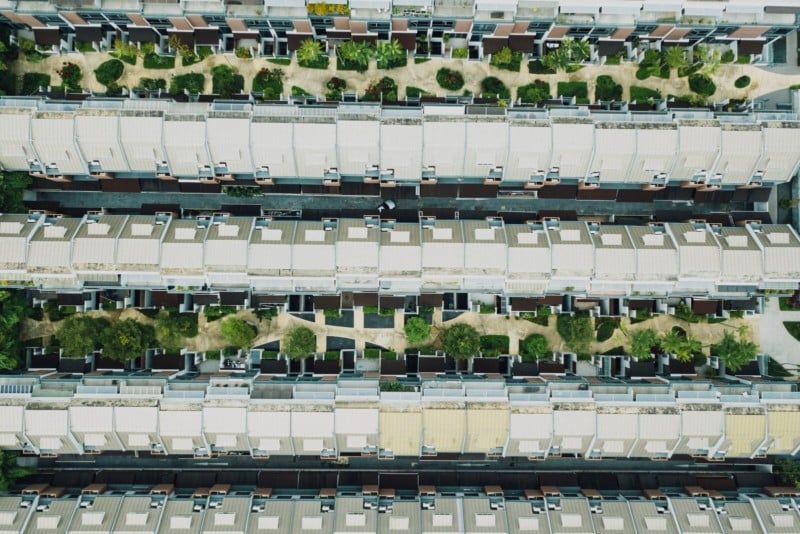 Furnished with a tropical inspired landscaping consisting of timber décor and greenery, communal facilities in Hillcrest Villa encourage interactions with the environment, and offer a spot for peace seeking residents to meditate in solace.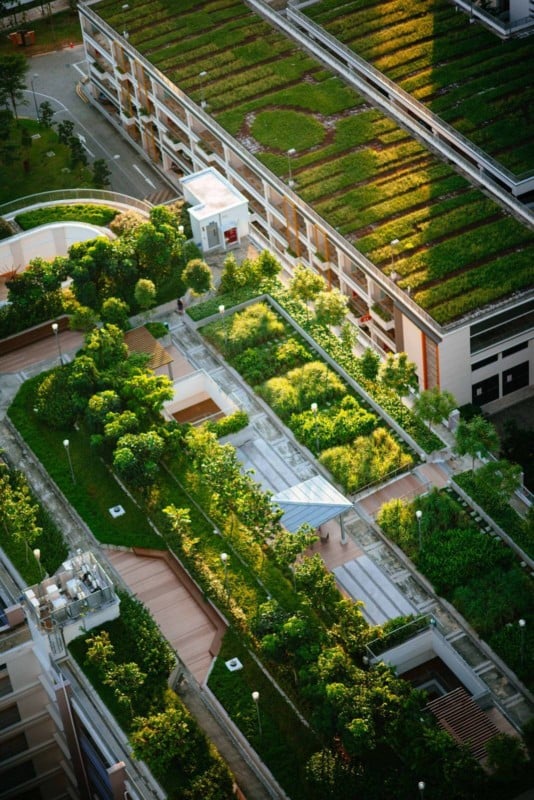 Singapore's HDB carpark rooftops are starting to look more green, as the government starts to build landscaped public rooftop gardens which provide amenities (exercise equipment, playgrounds, gardens) and visual relief. National Development Minister Khaw Boon Wan was quoted on the developments: "… besides lowering the ambient temperature, (they are) pleasing to the eye."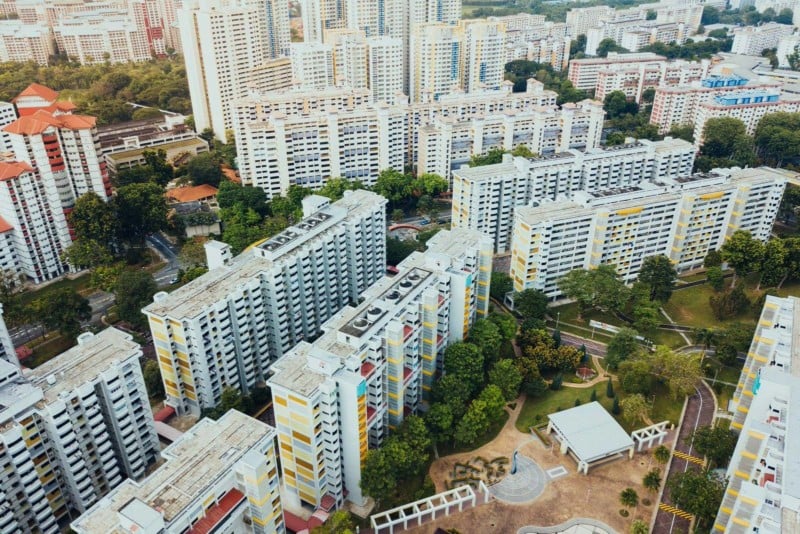 It's a common sight in Singapore to see HDB estates to be intertwined with a variety of trees, creating a soothing, harmonious living atmosphere between humans and nature.

The Marina Barrage's capabilities are manifold: A water catchment area, a system for flood control and a locale for leisurely activities. It is equipped with exhibits to promote a culture of sustainability for generations to come.

The iconic super trees stand tall and proud as if jewels in a crown, impressing tourists from abroad with Singapore's repute for environmental sustainability as a "city in a garden". The trees are not merely showpieces; multiple photovoltaic cells embedded within the structures collect solar energy to power its lights, providing an amazing display of lights after dusk.

Reservoirs in Singapore act as water catchment areas, providing the nation a sustainable flow of renewable water. Moreover, they function as scenic places for Singaporeans to enjoy the calm and cool of nature during leisurely morning strolls or evening runs. Combined with an extensive network of drains, canals and rivers, 2/3 of Singapore acts as rainwater collection points, enabling our nation to harvest stormwater for potable consumption.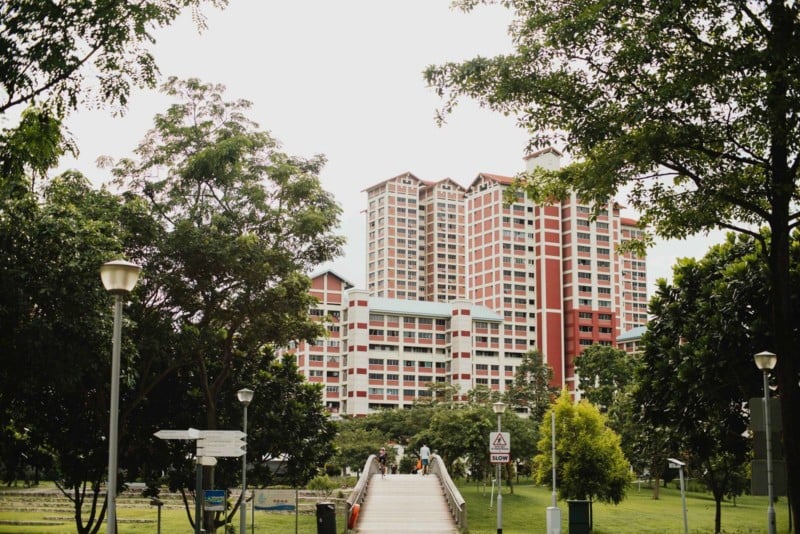 Amongst one of the largest parks in Singapore, the 62-hectare Bishan-Ang Mo Kio park has a naturalised canal, spanning 3 kilometres of winding rivers with lavish spaces for families to enjoy communal fun. If also features disabled friendly play facilities such that individuals of different abilities can enjoy the park.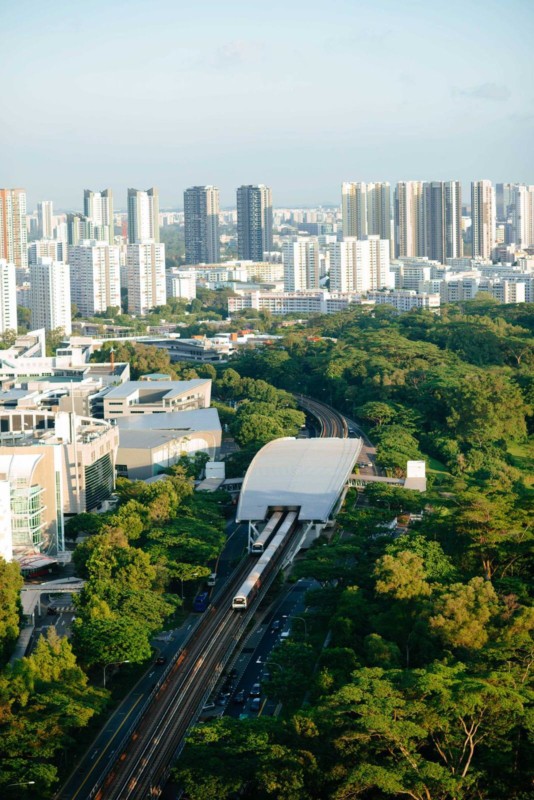 The Mass Rapid Transit (MRT) system offers an efficient solution to moving people around the island with convenient access to all regions. All trains have regenerative braking technologies to facilitate conservation of energy by converting kinetic energy to electricity.

Majestic raintrees adorn the sides of Singapore's Central Expressway; this ingenious idea can be attributed to founding Prime Minister Lee Kuan Yew. According to Singapore's first Commissioner of Parks and Recreation, "(sic.) we are in the tropics and, of course, the tropics being so hot, he wanted shade to cool the environment. It was his first priority".

The future of aviation and the environment is bright, as aviation giants Boeing and Airbus are committed to engineering efficient aircrafts which use lighter composite materials and advanced engine technologies to reduce consumption of fossil fuels. These efforts generate less waste and ultimately increased benefits for the environment.

A form of public transport which runs on electricity supplied by gridlines beneath the tracks, the LRT shuttles residents around suburban residential estates. If offers no air polluting emissions, minimising passenger carbon footprint to 13.2g per passenger-kilometre, in support of governmental efforts to create a "clean and green" Singapore.

Last light sets over Singapore's CBD. All of these buildings feature high density configurations, presenting a solution to growing woes of lang shortage in prime areas.

In line with Nanyang Technological University Singapore's vision to become one of the "greenest campuses in the world", the Hive @ NTU boasts a passive displacement ventilation system which ensures cool air is spread evenly throughout the levels. Up to 30% cost in energy savings are expected with this innovative air conditioning system. It received the Green Mark Platinum Award from the Building and Construction Authority in 2013.

For a country without natural resources, Singapore's future is heavily tied up to its capability to innovate and stay relevant. At the forefront to sustain Singapore's needs and economy is one-north, a business and science park by the Jurong Town Corporation. It is the future of Singapore's research and development sector, exploiting advances in the biomedical sciences and infocomm technologies to create efficient processes which propel our nation into the future.
You can find more of Yihong's work on his Facebook, Flickr, and Instagram.
Read more: petapixel.com